RANDO-MERCANTOUR-ECOGÎTE-VILLEPLANE-HOTEL-GUILLAUMES
CANYONING, CLIMBING, AQUATIC HIKING

For hiking, canyoning or kayaking lovers, this is an ideal starting point at the famous clue of Amen. Our ecolodge wil great you.
We will be happy to give you our tips on our region.
We also work with professionnal guides from the OEROC office in Valberg.
RANDO-ANE-ECOGITE-VILLEPLANE-MERCANTOUR
AU DÉPART DE NOMBREUSES RANDOS

From Villeplane, there are many hikes for different levels.
Of course, Mont St Honorat rises to 2550 m and it's the iconic peak that experienced hikers will not miss to climb (1200 m elevation).
For the less ambitious, there are 3/4 circuits around Villeplane including the "Sublime Point" loop that allows you to admire a magnificent view over the gorges.
We have at your disposal booklets with the circuits described as well as IGN 3540 ET maps.
HOTEL-GUILLAUMES-RANDONNEES-MERCANTOUR-ECOGITE-VILLEPLANE
WWW.ITINERANCE.NET
Our partner based in Villeplane, Itinerance-trekkings, an agency that organises many circuits of trekking with donkeys carrying or not your bags from one lodge to another.
MANY ACTIVITIES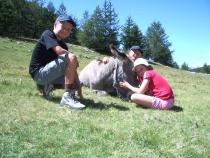 Our farm breds donkeys specialy for trekking. Working in collaboration with the agency Itinerance-trekkings, we can propose a donkey on a daily rental (1/2 day isn't possible but can be for our clients staying in a yurt)
Children can't back ride the donkeys as you will be working on mountain paths. We will lend you an IGN map with a guide booklet.
The trails are well marked. Two hikes of 3 h or 6 h are possible from Villeplane.
DEPLIANT
UN LIEU IDÉAL POUR VOS STAGES
Watercolor painting or drawing courses,
Yoga, meditation, well being courses
Yoga, meditation, well being courses
Circus, theater … courses
Circus, theater … courses
RANDONNEE AQUATIQUE GORGES DE DALUIS